From Head Banging to Rock Operas: The World According to Butch Walker
John sits down with his favorite frontman, the talented producer, artist, songwriter and engineer: Butch Walker. Butch discusses his hair metal roots, the importance of a great mentor, and working with Green Day, Weezer, Katy Perry, Pink and Avril Lavigne to name a few. Join John and Butch as they sip some whiskey and talk about life.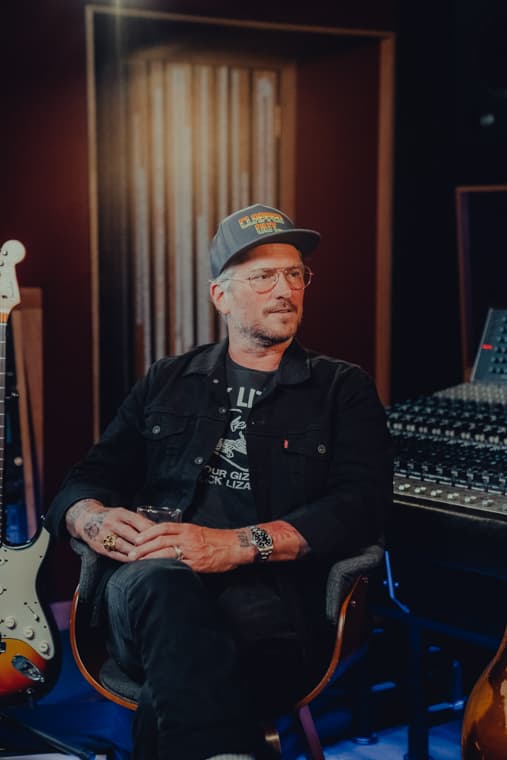 Butch Walker is a singer, songwriter, and producer whose skills run from radio-friendly pop to high-attitude hard rock. After gaining a brief taste of major-label success during the '80s and '90s — particularly with Marvelous 3, whose single "Freak of the Weak" became a modern rock hit in 1999 — Walker traded his bandmates for a solo career. Meanwhile, he also established himself as an in-demand producer by working with high-profile artists like Avril Lavigne, Katy Perry, and P!nk.
Raised in Cartersville, Georgia, Bradley Glenn Walker III launched his public career with the band SouthGang, who traveled to Los Angeles in 1988 and inked a contract with Virgin Records. The pop-metal group released two albums before splitting up, and Walker eventually resurfaced with Marvelous 3. The band enjoyed moderate popularity as the '90s wound to a close, but Walker grew frustrated with the band's label, Elektra Records, and Marvelous 3 splintered soon after. He then spent a year producing albums for such groups as Injected and SR-71 (whose most popular single, "Right Now," was co-written by Walker). The production work increased his reputation within the industry, and he quickly signed a solo contract with Arista. Left of Self Centered marked his solo debut in 2002; it also took a page from Marvelous 3's book by embodying the singer's nonconformist attitude and playful rock & roll swagger. Unfortunately, neither that album nor its follow-up, 2004's Letters, caught on with the public.
Walker increasingly turned to production work, and he spent the following two years helming records for such big-name artists as Avril Lavigne (Under My Skin), P!nk (I'm Not Dead), and Tommy Lee (Tommyland: The Ride), as well as emerging pop stars like Lindsay Lohan (A Little More Personal [Raw]). The experience further boosted his industry profile and helped shape the sound of his next solo album, 2006's The Rise and Fall of Butch Walker and the Let's-Go-Out-Tonites. The album spun stories of drugged-out starlets, struggling wannabes, late-night adventures, and wild parties in L.A.; it was also Walker's most fully realized record to date. Ever the multitasker, he returned to the production booth for several new projects — most notably Katy Perry's One of the Boys, which became a smash success during the summer of 2008 — before returning to his solo career that fall with Sycamore Meadows.
I Liked It Better When You Had No Heart followed in 2010 and featured a new backup band, the Black Widows, which included fellow Georgia natives Fran Capitanelli and Chris Unck. The new group also played on Walker's next album, Spade, which appeared 2011; that same year, he published an autobiography called Drinking with Strangers: Music Lessons from a Teenage Bullet Belt. Walker did some production work in the next two years — he showed up on Taylor Swift's 2012 album Red and helmed Fall Out Boy's 2013 comeback Save Rock and Roll — and teamed with producer Ryan Adams for his next solo album, 2015's Afraid of Ghosts. After producing the solo debut for Gaslight Anthem leader Brian Fallon, Painkillers, Walker returned to the studio to cut another solo effort, the country-accented 2016 effort Stay Gold.
Walker returned in 2020 with American Love Story, a loose concept album about the divides in American society, steeped in the AOR sound of his adolescence.
– AllMusic.com